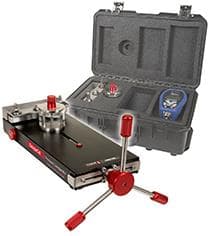 Images are representations only.
CRYSTAL ENGINEERING Pressure Comparator, Two CPF Male Fittings (installed) and One 1/4" FNPT Adapter (P/N MPF15K-1/4FPT).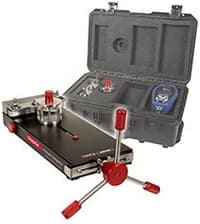 Fast, portable, and easy – generate pressure to 15 000 psi

The GaugeCalHP (System G) is a portable, self-contained, hydraulic pressure generator for calibrating pressure gauges, transmitters, sensors, and safety valves.

It's much faster than dead weight testers and most automated pressure controllers; and it's so quick and easy to use, it's ideal for calibrating those low cost gauges that are often overlooked for ISO9000 compliance.

Use without fluid to generate up to 400 H2O (995 mbar) to within 0.01 inches (0.025 mbar). Makes calibrating differential pressure transmitters easy.
Specifications
Maximum Pressure
Maximum Hydraulic Pressure: 15,000 psi/1,000 bar/100 MPa
Maximum Pneumatic Pressure: 400 inH₂O/995 mbar/29 inHg
Burst Pressure
> 25,000 psi/1,700 bar/170 MPa
Sensitivity
Fine Adjust: 0.01 inH₂O/0.025 mbar
Materials
Test Media: Water, Oil, or Air
Seals: Buna-N (Nitrile), Viton, and Urethane
Enclosure: Anodized Aluminum
Wetted Materials: Stainless Steel plus Seals and Acrylic Reservoir
Dimensions
Reservoir Volume: 10.8"³ (176.9 cm³)
Piston Stroke Volume: 0.8"³ (13.1 cm³)
Weight: 20 Lbs (9 kg)
Height (with handles): 11" (280 mm)
Height (Base): 5.5" (140 mm)
Length: 20.5" (520 mm)
Width: 8.3" (210 mm)
Connections
CPF Male (Installed): MAWP 15000 psi/1000 bar/100 MPa
MPF15K-1/4FPT: MAWP 15000 psi/1000 bar/100 MPa