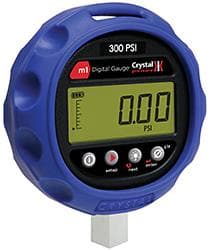 Images are representations only.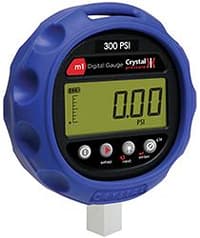 The m1 holds its accuracy for years at a time. Carry the m1 and use it every day, for up to two years, between calibrations.

Even drops and over pressure won't hurt it. And, because the accuracy is high (0.2% of the displayed pressure) across a very wide range, it's easy to replace several test gauges at a much lower cost.

The m1 digital pressure gauge maintains 0.2% of reading accuracy from -10 to 50°C. Accuracy is not affected by dropping, over-pressure, vibration, temperature, or rapid pressure change. Available as a 30 psi digital manometer.
Features
Durable Construction: IP - 65 Rated Dust & splash proof; Shock resistant circuitry; Hard Polyester/Polycarbonate blend enclosure & rubber boot (Skydrol compatible)
Bright, Back-lite Display: Easy to read from a distance, in the dark, or in bright sunlight
Long Battery Life: Ideal for hard to reach places - last up to three years, using the programmable update rate.
CPF Sensor Assembly: 316 stainless steel welded sensor - Shifts everyday wear to a replaceable NPT, M20, or BSP adapter (included)
Accuracy


0 To 20% Of Range: ±(0.04% of full scale)
20% To 110% Of Range: ±(0.2% of reading)
Vacuum: ±(0.25% of full scale) Full scale = -14.5 psig

Operating Temperature


-10 to 50°C (14 to 122°F)

Display 


Screen: 5 Digits, 16.8 mm (0.66") high
Display Rate: 4 readings/ second

Power


2 x AA: 900 Hours, typical
Extended Battery Life - 
1 reading / 15 seconds: 3,000 hours
1 reading / 30 seconds: 6,000 hours
1 reading / 60 seconds: 10,000 hours
1 reading / 5 minutes: 25,000 hours
1 reading / 10 minutes: 30,000 hours
M1-30PSI
CRYSTAL ENGINEERING Crystal Engineering M1 Digital Test Gauge 30 psi Gauge Range Accuracy: 0.2% of Reading (20-100% of Full Scale), 0.04% of Full Scale (0-20% of Full Scale), 5 Digit Display, 1/4" NPT Bottom Connection, Includes Calibration Report and Protective Boot with Hanging Strap
Specifications
Enclosure
Weight: 331 g (11.7 oz.)
Rating: IP65
Housing: Polyester/Polycarbonate Blend
Keypad and Labels: UV Resistant Polyester
Sensor
Wetted Materials: (Wrench Tight) 316 Stainless Steel (Finger Tight) 316 Stainless Steel and Viton
Diaphragm Seal Fluid: Silicone Oil
Connection: Crystal CPF Female
Storage Temperature
-40° to 75° C (-40° to 167° F)