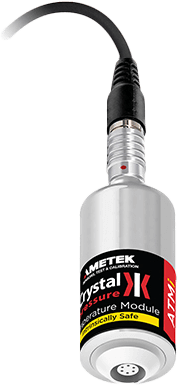 Images are representations only.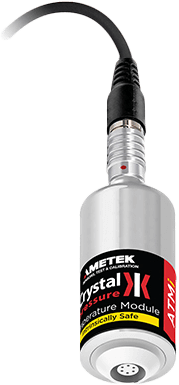 Intrinsically Safe Temperature Module

The ATMi intrinsically safe portable temperature modules offer the functionality and flexibility to read up to two temperature inputs with a single HPC50 handheld pressure calibrator.

Use the modules to add temperature measurement to the HPC50 series calibrator. The ATMi intrinsically safe temperature modules deliver the same high level accuracy whether in the lab or in the field.
Features
Accuracy to 0.015% of Reading 
Temperature Compensated from -20 to 50°C 
Connects with Jofra Temperature Sensors 
Rugged Machined Stainless Steel Housing
Self-Contained, Intelligent Modules
Specifications
Temperature Measurement
Accuracy: ± (0.015 % of Reading) + 0.02 Ohm
Range: 0 to 400 Ohms
Resolution: 0.01 on all scales
Units: °C, K, °F, R, Ω
TCR: 0.003850 Ω/Ω/°C (IEC 60751)
Wiring: 4-Wire support
Output
Display Update: up to 10 per second
Temperature Resolution: 0.01
Enclosure
Dimensions: 2.5 × 1.1 in (63.3 × 27.0 mm)
Weight: 0.31 Lbs (141.0 g)
Communication
Connector: 6-Pin LEMO
Serial: RS-422, 9600 baud, 8 data, no parity, 1 stop
Protocol: ASCII Command Language
Operating Temperature
Temperature Range: -20 to 50° C (-4° to 122° F)
Storage Temperature
-40° to 75° C (-40° to 167° F)
Intrinsic Safety Approvals