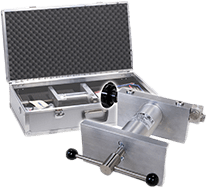 Images are representations only.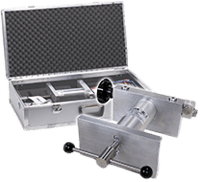 Our high-pressure, hydraulic pressure comparators are portable, self-contained, hydraulic pressure generators for calibrating pressure gauges, transmitters, sensors, and safety valves.

They are much faster than deadweight testers and most automated pressure controllers; and it's so quick and easy to use, it's ideal for calibrating those low cost gauges that are often overlooked for ISO9000 compliance.

Each pump is available on its own, or in one of our complete ready-to-use pump systems.

The P-Series (System D) comparators are hydraulic screw pumps designed for easy, controlled, high pressure generation.

Each comparator includes a 4 connection manifold, which can be used for the reference indicator, the device under test, a fine adjust, an isolation valve, or a fluid reservoir.

The adjustable reference pressure port lets you set your reference gauge at the best viewing angle. Three models are available for hydraulic oil, water, or both.
Features
Pressure Range: 0 to 5000 psi / 350 bar
Easy to use fine adjust
Adjustable reference port
Eliminate / Bleed air with CPF fittings
Portable or permanent bench mounting
P-018-CPF  includes CPF fittings
Specifications
Pressure Ranges
P016, P017, and P-018-CPF: 0 to 350 bar/0 to 5000 psi
O-Ring Material
P016, P017, and P-018-CPF: Buna-N
Pressure Connections - Reference Ports
P016, P017: 1/4" BSP Female
P-018-CPF: Crystal CPF Male (1/4" BSP Female to CPF Male Adapter)
Pressure Connections - Adapter/Accessory Ports
P016, P017: 3 × 1/4" BSP Female
P-018-CPF: 2 × 1/4" BSP Female. Includes one MPM-1/4BSPM and one MPF-1/4FPT (1/4" Female NPT)
Dimensions
Pump: 366 × 195 × 105 mm/14.4 × 7.7 × 4.1 inch
Weight: 3.7 kg/8.2 Lbs
Mounting Holes: M6×4 places