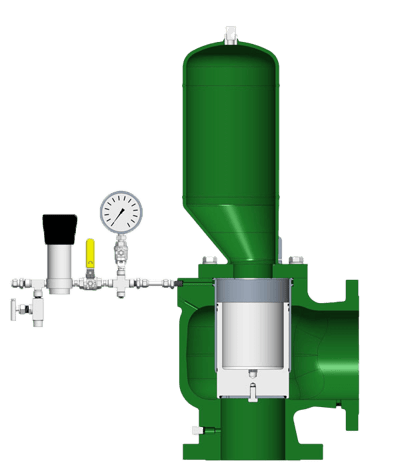 Images are representations only.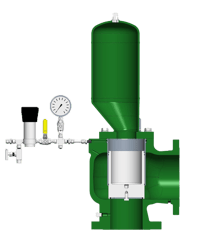 A pilot-less version of the F7000 series, this valve provides quick relief of pressure surges in oil pipelines or other liquid systems. Piston opens against fixed volume of gas in integral dome reservoir.

Elastomer seat for tight shutoff. Liquid pipelines operate under pressure. If a pressure surge occurs due to a valve opening or closing incorrectly, or a pump comes on line the result in a non-compressible fluid could be catastrophic.

The Flow Safe F9000 surge relief valve has speed of response performance you can depend on.
Features
Direct pressure setting without need for pilot or other controls
Soft seated (Elastomer)
Furnished with precision self-relieving regulator & gauge
Full or reduced bore orifice
Piston lift at set pressure, proportional to demand
Repeatable leak tight seating and re-seating
Integral flange design
Piston dampening ring for chatter-free performance
Top entry for low-cost maintenance and cost of owners
Specifications
Connection Sizes
1" × 2" - 12" × 16" (25 mm × 50 mm - 300 mm × 400 mm)
Set Pressure Ranges
100 - 3705 psig (6.9 - 255 barg)
Temperature Ranges
-65° to 500° F (-54° to 260° C)
Orifice Area Range
.521 - 111.87 in² (336 - 72174 mm²)
End Connections
Standard: Integral ASME RF Flanged (up to 1500# inlet)
Materials of Construction
Carbon Steel with Stainless Steel trim
Seat Materials
Elastomer: Buna-N, Viton (FKM) or equal, EPR/EPDM, FFKM (Chemraz, Kalrez, etc)
Certifications & Compliance
Superior flow capabilities (independently verified at 3rd-party high-capacity water test lab)
U.S. Patent No. 7,302,961 (December 2007)
Liquid Surge / Water Hammer Protection
Pump Failures
Rapid Block Valve Closure
Non-Return Check Valve Hard-Shutting
ESD of Tank or Loading System
Pump Startup or Tripping