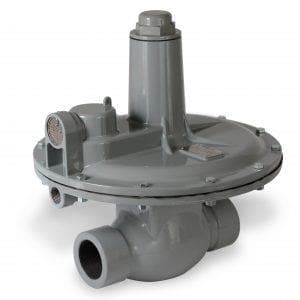 Images are representations only.
Type P133 Gas Pressure Reducing Regulator
Brand:
BelGas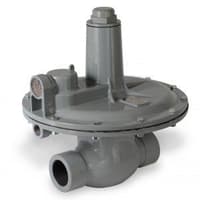 The BelGAS Type P133 gas pressure reducing regulator is used in commercial and industrial applications such as furnace and burners, where accuracy and sensitivity are critical.

Offered with a wide range of pressure capabilities within a single regulator, from 2" of water column up to 10 psig, the compact BelGAS Type P133 reduces the effects of supply pressure changes on output pressure via a balanced diaphragm design for accurate control.

With user selection of appropriate options, the regulator can be further utilized in either low- or high-pressure applications.

Units are designed to reliably operate over a temperature range of -20° to +150°F (-29° to +66°C).

In addition, the bubble-tight shut-off feature makes the Type P133 ideal for use with residential and light industrial heaters and industrial burners, as a reliable means of supplying gas to furnaces, burners, light industrial heaters and other appliances.

No seat-to-seat adjustment is required.
Features
Suitable for monitoring
Balanced supply valve
Wide pressure range offering
Specifications
Maximum Operating Inlet
L & H: 60 psig
K: 150 psig
Maximum Emergency Inlet
L & H: 125 psig
K: 150 psig
Maximum Operating Outlet
L: 2 psig
H: 10 psig
K: Set + 40 psig
Emergency Outlet
L & H: 15 psig
K: 150 psig
End Connection
2" NPT (Standard)
125 FF Flange (Iron Only)
150 RF Flange (Steel Only)
Temperature Range
-40° C to 93° C (-40° F to 200° F)
Industrial and Commercial Gas Regulation 
Compressors
Gas Engines
Natural Gas and Propane Applications