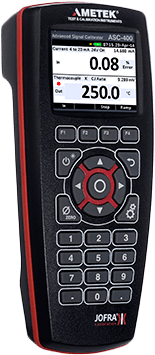 Images are representations only.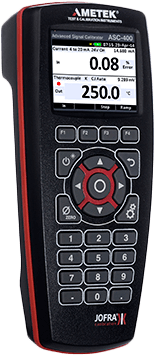 Our multifunction process calibrators read and source RTD, thermocouple, current, voltage, frequency, and resistance to calibrate or verify your process sensors.

They can also be combined with APM CPF pressure modules to calibrate pressure, or a dry-block calibrator to calibrate temperature.

The multifunction handheld ASC-400 calibrator features a large full color display with an advanced simplicity, easy-to-use interface.

Our Multifunction Process Calibrator combines all your favorite features such as % error calculation, scaling, leak-testing, and switch calibrating into one multifunction process calibrator.
Features
Large full color display 
Advanced Simplicity user interface
Connection Assistant provides connection details for the current set-up
Simultaneous read-back and fast RTD simulation
Connect an RTD to use as a high accuracy thermometer using "True Ohm" technology
Full numerical keypad with cursor and function keys
Recall saved tasks for both upper & lower windows
Fuseless Protection
Inputs for Thermocouple Calibration
The multifunctions of the ASC-400 include:


Read and source RTD, Thermocouple, Current, Voltage, Frequency, Resistance, and Pulse Train Output
Calibrate gauge or absolute pressure when combined with an APM CPF pressure module 
Calibrate temperature when combined with a dry block calibrator
Specifications
Operating Temperature
-10° to 50° C / 14° to 122° F
Storage Temperature
-20° to 60° C/-4° to 140° F
Humidity
0 to 80 % R.H. Non-Condensing
All Specs Specied at Ambient Temperature
23° C ± 5° C / 73° F ± 9° F
Outside Ambient 23°C ± 5°C
Outside Ambient 73°F ± 9°F
1.5V AA
Alkaline (Non-Rechargeable) or AA NiMh (Rechargeable)
Mains Adapter
(option) 9 Vdc/500 mA - 230 Vac/115 Vac
Battery Lifetime–Backlight Low No, Loop Power
Battery Lifetime–Backlight High, 12 MA Loop
Charging Current (Optional Charger)
Use Only NiMH Cells with Capacity Larger than
RS232 Communication Interface
Connector: Mini USB Female (B)
Communication Rate: USB 2.0 / ASCII
Switch Test Output
Maximum Current: 1 mA
Maximum Voltage: 24 Vdc
Physical Specifications (LxHxW)
Unit: 220 × 55 × 96 mm / 8.66 × 2.17 × 3.78 in
Weight Including Batteries: 584 g / 20.6 oz.
Unit in Soft Case: 235 × 95 × 115 mm / 9.25 × 3.74 × 4.53 in
Weight Including Test Leads & Test Chips: 933 g / 32.91 oz.
Shipping Size: 275 × 100×175 mm / 10.83 × 3.94 × 6.89 in
Shipping Weight: 1233 g / 43.49 oz.
Miscellaneous
CE - EMC: EN 61326-1: 2012