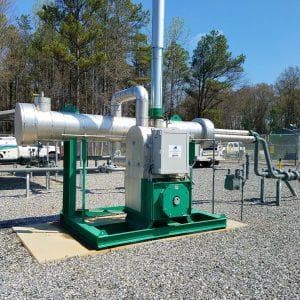 Images are representations only.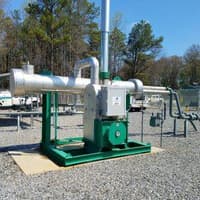 CWT Natural Gas Dry Line Heaters lead the pack in environmental responsibility and economic viability.

Based on Tecvalco Ltd.'s patented Heat Driven Loop technology, CWT heaters provide true indirect heat that results in tremendous thermal efficiencies.

CWT Natural Gas Dry Line Heaters are a revolutionary approach of using low pressure and low temperature steam to more quickly, more economically and with less greenhouse gas emissions to heat natural gas at town border stations or other facilities.

Millivolt controls are supplied by power from thermopiles installed by a standing pilot meaning no power or generators need to be installed on location.

The low volume of glycol, the system operating under a vacuum, and the familiar off-the shelf safety and fuel supply components lead to ease of use, inspection and repair.

The Heat Driven Loop technology has found uses in other applications as well, such as our tank heating system and mechanical treaters.

Please note, in order to size your heater correctly, we require the following:

Station in pressure
Station out pressure
Station in temperature
Station out temperature
Typical flow rate
Maximum flow rate
Features
Closed system that requires no top ups
Elimination of costly glycol bath
Increased thermal efficiency over conventional technology
No outside utility required – system runs on internally-generated millivolt power
Patented Heat Driven Loop (HDL) Technology
Quick response time to actual gas temperature
Reduced greenhouse gas emissions
Reduced heat loss
Runs on vacuum, resulting in a significant reduction in corrosion
Significantly reduced fuel consumption
Silent
Simplified operator-friendly instrumentation