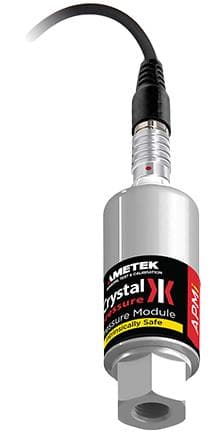 Images are representations only.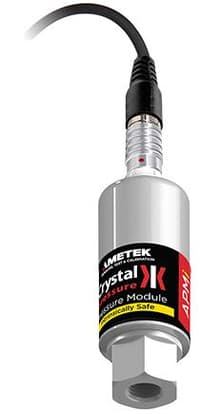 The CrystalL APMi intrinsically safe pressure modules, with integrated CPF female connections offer the functionality and flexibility to read up to 4 pressure inputs with a single HPC50 calibrator.

In addition to the two installed modules in the HPC50 Series, two APMi pressure modules can be connected to the device.

This provides the flexibility to either expand the range of the HPC50, view all four pressure readings at the same time, or to read two different differential pressures.

The APMi is engineered to deliver the same high level of accuracy whether in the lab or in the field. When combined with the APMi pressure module and pump systems, the HPC50 is a powerful calibration tool.
Features
Accuracy to 0.035% of Reading
Temperature Compensated from -20 to 50°C
Integrated CPF Connection
Eight Ranges Available
Rugged Cast Aluminum Housing
Self-Contained, Intelligent Modules
8 models matching criteria
APMI-15PSI
CRYSTAL ENGINEERING Crystal Engineering APM-I Advanced Pressure Module - Intrinsically Safe 15 psi Gauge Range Includes 1M Cable Length and 1/4" MNPT Fitting
$1,494.00
USD
Free Shipping
APMI-30PSI
Crystal Engineering APM-I Advanced Pressure Module - Intrinsically Safe 30PSI gauge range Includes 1M cable length and 1/4" MNPT Fitting
$1,494.00
USD
Free Shipping
APMI-100PSI
Crystal Engineering APM-I Advanced Pressure Module - Intrinsically Safe 100PSI gauge range Includes 1M cable length and 1/4" MNPT Fitting
$1,494.00
USD
Free Shipping
APMI-300PSI
Crystal Engineering APM-I Advanced Pressure Module - Intrinsically Safe 300PSI gauge range Includes 1M cable length and 1/4" MNPT Fitting
$1,494.00
USD
Free Shipping
APMI-1KPSI
Crystal Engineering APM-I Advanced Pressure Module - Intrinsically Safe 3KPSI gauge range Includes 1M cable length and 1/4" MNPT Fitting
$1,494.00
USD
Free Shipping
APMI-3KPSI
Crystal Engineering APM-I Advanced Pressure Module - Intrinsically Safe 1KPSI gauge range Includes 1M cable length and 1/4" MNPT Fitting
$1,494.00
USD
Free Shipping
APMI-10KPSI
Crystal Engineering APM-I Advanced Pressure Module - Intrinsically Safe 10KPSI gauge range Includes 1M cable length and 1/4" MNPT Fitting
$1,494.00
USD
Free Shipping
$1,494.00
USD
Free Shipping
Specifications
Sensor
Wetted Materials: 316 Stainless Steel and Vitron Internal O-Ring
Diaphragm Seal Fluid: Silicone Oil
Connection: Crystal CPF Female
Output
Pressure Resolution: Up to 6 Digits
Display Update: Up to 10 Per Second
Pressure Overload
Overload Alarm: "+OL" in Display at 110 % of Full Scale
Operating Temperature
-20° to 50° C (-4° to 122° F)
Storage Temperature
-40° to 75° C (-40° to 167° F)
Certifications & Approvals
We Declare that The APMi is in Accordance with The Electromagnetic Compatibility Directive Per Our Declaration(s)