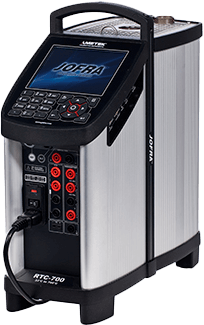 Images are representations only.
Our most advanced and accurate portable temperature calibrator with the widest available temperature range.

One of its great features is the patented DLC system for perfect temperature uniformity in the insert – even when calibrating large sensors or many sensors at a time.

The RTC Series also feature active dual- and triple-zone temperature control which provides excellent temperature homogeneity in the well.

Our latest calibrator is our most advanced yet. Our new RTC-168 Combination Dry-Block / Wet Bath Temperature Calibrator provides the advantage of both in a portable package.

In addition to its versatility, it also includes innovative patent-pending features designed to calibrate difficult sanitary sensors.

Every RTC model includes our advanced simplicity user interface, which is available in English, German, Chinese, and Japanese.
Features
New Liquid System with a faster magnetic stirrer to extend the uniformity zone
More space to support large flange sensors up to 84 mm in diameter
A removable liquid container making switching from dry to wet clean and easy
Screw on lids for quick portability
Special sanitary sensor insert for dry block mode
Unique airflow system to protect sensors-under-test
New IP68 reference sensor compatible with dry and wet modes
Temperature range from -100 to 700°C (-148 to 1292°F) with 7 models
Accuracy to ± 0.04°C and Stability to ± 0.005°C
Dry block and liquid bath / dry block combined
Time saving fast cooling and heating times
Contamination free calibration of clamp sensors
"Plug and Play" intelligent reference sensors
Easy-to-read color display with User-friendly navigation
Lightweight and easy to carry
Multi-hole insert kits
JofraCal Calibration Software
Inputs for Thermocouple Calibration
Specifications
Resolution (User Selectable)
All Temperatures: 1° or 0.1° or 0.01° or 0.001°
Temperature Unit in Display
User Selectable: °C, °F, or K
Wide Temperature Range
RTC-156: From -30 to 155° C (-22 to 311° F)
RTC-157: From -45 to 155° C (-49 to 311° F)
RTC-158: From -22 to 155° C (-8 to 311° F)
RTC-250: From 28 to 250° C (82 to 482° F)
RTC-159: From -100 to 155° C (-148 to 311° F)
RTC-187: From -45 to 180° C (-49 to 356° F)
RTC-700: From 33 to 700° C (91 to 1292° F)
Ultrasonic Flow Meters for Custody Transfer of Natural Gas


The Ability to Accurately Measure the Flow of Gas in the Pipeline is Critical for Custody Transfer

Spanish Energy Giant Uses Jofra to Calibrate


Every Part of a Theromoelectric Solar Plant must be running Properly to Ensure Maximum Energy Output. JOFRA Calibration Units are Used to Make Sure that all Sensors are Correctly Calibrated

A Time Saving High Accuracy Humidity Calibration Process


By Pre-Calibrating Temperature Sensors in the Laboratory, our Pharmaceutical Customers Save Time, Increase Accuracy, and Minimize Downtime