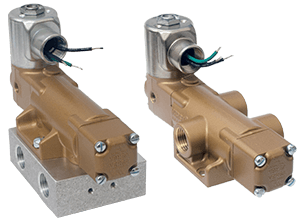 Images are representations only.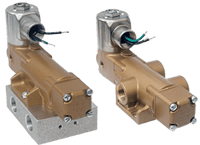 For pneumatic, and low pressure hydraulic, directional control applications, Versa offers a V Series valve for trouble-free performance under the most exacting conditions

V Series valves are available with solenoid, manual, mechanical, and pilot actuators. Also available are unique features such as lockout, latching manual reset, and redundant coils.
Features
Versatility


Versa's modular design offers solutions to a wide range of applications.  Our valve construction allows valve bodies and actuating devices to be interchanged end for end and valve for valve providing great flexibility. 

Compatibility & Application Range


V Series valves are designed for the control of pneumatic pressures from partial vacuum to 200 psi (14 bar) and hydraulic to 100 psi (7 bar). 
The use of standard O-ring seals makes it possible to supply many different compounds in order to meet varying conditions of media and temperature.
Specifications
Construction
Forged Brass body, Buna or FKM (Fluorocarbon) sealing
Service
Pneumatic-vacuum to 200 psi (14 bar)
Function
Two-Way, Three-Way, Four-Way, multipurpose, 2/2, 3/2, 3/3, 5/2, or 5/3
Port Sizes/Orifice/Flow
1/8" NPT or G / 0.375" (9, 5 mm) / 1.4 Cv
1/4" NPT or G / 0.375" (9, 5 mm) / 1.8 Cv
3/8" NPT or G / 0.625" (16 mm) / 3.4 Cv
1/2" NPT or G / 0.625" (16 mm) / 4.0 Cv
3/4" NPT or G / 1.063" (27 mm) / 9.7 Cv
1" NPT or G / 1.063" (27 mm) / 11.1 Cv
1-1/4" NPT or G / 1.25" (32 mm) / 14.9 Cv
Style
Side ported or manifold mounted
Actuation
Solenoid pilot, remote pilot, manual or mechanical