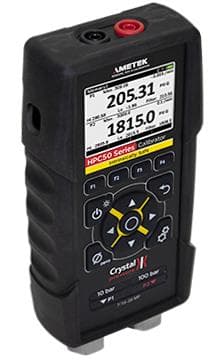 Images are representations only.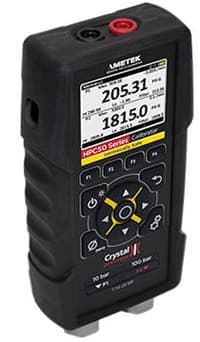 The HPC50 handheld pressure calibrator is an intrinsically safe, dual pressure calibrator with options to add an additional two external pressure or temperature modules.

The HPC50 pressure calibrator combines the features you love from the HPC40 with improvements like, better battery life an improved display, an extra external module connection, and of course intrinsic safety.

The HPC50 series pressure calibrator is fully temperature compensated for pressure, temperature, and electrical measurements from -20 to 50°C.
Features
0.035% of Reading Accuracy
Gauge, Absolute, and Differential Pressure to 10,000 psi / 700 bar / 70 MPa
Advanced Simplicity "Non-Menu" Interface
Measure Sink mA and V
High Accuracy Thermometer with "True Ohm" Technology
Store & Recall Previously Used Screen
HPC41-30PSI
CRYSTAL ENGINEERING Crystal Engineering HPC41 Handheld Pressure Calibrator - Single Pressure 0-30 psig Gauge Range Transducer 0.035% of Range Accura Cy Includes: Traceable Calibration Certificate, 4 x AA Batteries, 1/4" MNPT Adapter, Protective Boot, Test Leads with Clips, Velcro Strap, User Manual, Mini-USB Cable
$2,619.00
USD
$15.00 Shipping
Specifications
Pressure Sensor
Wetted Materials: 316 Stainless Steel
Diaphragm Seal Fluid: Silicone Oil
Connection: Crystal CPF Female
Barometric Reference
Accuracy: ± 0.00725 psi, ± 0.5 mbar
Range: 10.153 to 15.954 psia, 700.0 to 1100.0 mbarA
Current (mA) Input
Accuracy: ± 0.015 % of Reading + 0.002 mA
Percent Range: 0-20, 4-20, 10-50
Max Allowable Current: 93.3 mA
Units: mA, Scaling, % Error, and % Flow
mA Range: 0 to 55 mA
Resolution: 0.001 mA or 0.01 %
Display
Screen: 320 × 240 Pixel Graphical Display
Display Rate: 3 Readings/second (Standard)
Certifications & Approvals
II 1G IEx ia IIC T4/T3 Ga
FTZU 18 ATEX 0043X
Ex ia IIC T4/T3 Ga
IECEx FTZU 18.0012X
HPC50 Series Complies with The Electromagnetic Compatibility and The Pressure Equipment Directives.
HPC50 Series Complies with The Australian Radio - communications (Electromagnetic Compatibility) Standard 2008.