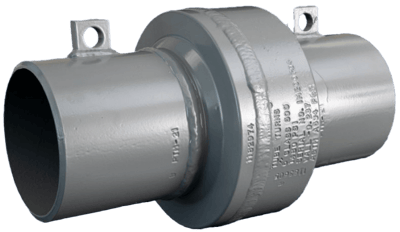 Images are representations only.
Tube Turns® Pipe-Type Insulated Joints are monolithic, boltless, non-separable, pre-assembled and pre-tested units used to electrically isolate piping or pipeline segments and adjacent equipment.

Selective cathodic corrosion, risk to metering or monitoring equipment, and other unpredictable damage can result from introduction of stray electrical currents, which can come from a number of sources – adjacent electrical transmission lines, parallel pipelines, geomagnetic fields, flow-induced static charges, etc.

The propagation of current flow along the length of the piping or into attached equipment can be prevented by use of electrical isolation devices, such as monolithic insulated joints.

A key feature of Tube Turns Pipe-Type Insulated Joints is the inclusion of ready-to-weld pipe ends matched to the customer's pipeline outside diameter, internal bore, wall thickness, and material. Stock quantities available for quick delivery.
Features
Compact Design
Boltless Construction
Factory-Assembled
Multiple Levels of Protection
Full-Scale In-House Testing
Factory-Inspected
Ready for Installation
No Maintenance or Adjustment
Specifications
Materials of Construction
O-Ring Gaskets: Quality, High Grade, Fully Molded FKM (-15/400° F)
Insulating Gasket: Epoxy Base/Glass Fiber Reinforced capable of meeting a minimum electrical strength of 15,000 Volts.
Coating: Blast-cleaned and coated with a Prime Coat and Top Coat of Epoxy-based paint.
Hub & Retaining Ring Options: SA516 GR 70N, ASTM A105, A106 or A694 with 52,000 psi Minimum Yield Strength.
Pipe: SA-106 Grade B, API 5L X52
Other materials available upon request.