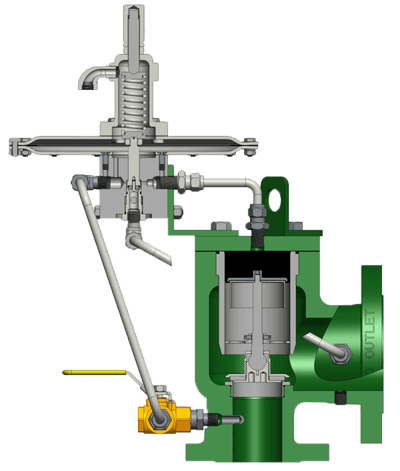 Images are representations only.
F70PR Modulating, Flowing (Gas / Liquid Service)
Brand:
Flow Safe, Inc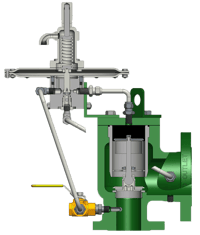 Pilot operated pressure relief valves with aluminum or carbon steel construction, and modulating-action pilots.

A variety of soft seat materials are available. Ideal for natural gas regulator and meter protection, and positive displacement blower protection.

This product provides high capacity flow rates and are inline repairable. Made for DOT / gas transmission applications (non-ASME Code). FLOWSAFE customers buy smaller valves, save money!
Features
F100 Pilot-operated; Modulating, flowing
Soft seated (Elastomer)
Optional backflow preventer & field test connection
Full bore orifice
Full piston lift at 105% set pressure, proportional to demand
Pilot vents to process
Leak tight seating and re-seating
Integral flange design
Carbon steel body with corrosion resistant trim
Rugged, simple, light-weight design
Specifications
Connection Sizes
1.5" × 2" - 12" × 16" (38 mm × 50 mm - 300 mm × 400 mm)
Set Pressure Ranges
10" wc - 285 psig (.025 - 19.6 barg)
Temperature Ranges
-65° to 400° F (-54° to 204° C)
Orifice Area Range
1.770 - 111.87 in² (1142 - 72174 mm²)
End Connections
Standard: Female NPT (1.5" × 2" size only), Integral ASME RF Flanged (150# inlet/outlet)
Materials of Construction
Carbon Steel with aluminum trim
Aluminum (1.5" × 2" size only)
Seat Materials
Elastomer: Buna-N, Viton (FKM) or equal, EPR/EPDM
Certifications & Compliance
DOT (49CR192.199)
Superior flow capabilities (independently verified)
Natural Gas
DOT
Chemical Processing
Positive Displacement Blowers
High Cycle Rates / Long Service Life
Minimal Product Loss Importance
Operation Close to Set Point with Zero Leakage Required