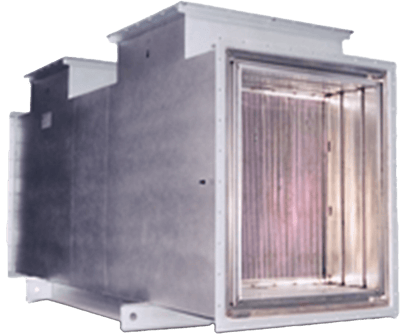 Images are representations only.
Thermo-Z® Welded Plate Heat Exchanger
Brand:
Munters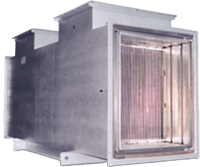 The Thermo-Z plate style heat exchanger is designed to recover heat from energy-consuming processes up to 1500°F. Energy can be recovered and returned as process make-up air, used to preheat combustion air, or used for plant or office heating.

Thermo-Z offers fully adjustable plate thickness and spacing as well as multiple flow patterns.

The heat exchanger is designed for industrial environments. High-quality materials and construction provide superior performance in high-temperature or corrosive environments.

The heat-transfer plates are completely seam-welded to ensure against cross-contamination. Plate spacing is achieved via raised and depressed, truncated, conical dimples that provide uniform plate pitch.

The inner casing is constructed of the same material as the heat-transfer matrix and is welded to the matrix at certain peripheral locations to assure an air-tight seal.
Features
Fully-welded construction. Materials of Construction: Carbon Steel, Stainless Steel, Duplex 2205, AL6XN, C-276, etc.
Up to 85% efficient
4" - 8" double-wall insulated casing
.01% max leakage
Various airflow configurations to accommodate most economical ducting layout
Variable plate spacing on heat exchanger matrix plates
Operation up to 10 PSIG
Can handle particulate laden air streams due to up to 2" wide air gaps and options for access doors for inspection and cleanability
Catalytic & Thermal Oxidizer Heat Recovery 1st & 2nd Stage
Transfer Process Exhaust to Process Make-up Air
Cooling Process Air prior to Baghouse
Rotary Kiln
Waste Process Heat to Plant Make-up Air