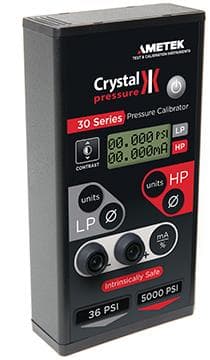 Images are representations only.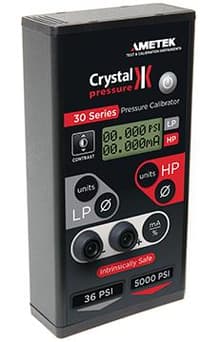 The 30 Series is a wide range digital pressure calibrator that fits easily into your shirt pocket.

Its internal sensors give you 0.05% of reading accuracy and resist damage from overpressure.

With this Pocket Sized Crystal, You Can:

Measure low & high pressures, And vacuum
Calibrate flow computers, gauges & transmitters
Compare pressure vs. milliamps
Customize every feature
Trust Every Reading:

The same accuracy, every time - 0.05% "of reading" accuracy includes all effects of linearity, hysteresis, repeatability, temperature, and stability for one year
Zero temperature effects - Pressure and milliamp readings are fully temperature compensated
These sensors never deform - The perfectly elastic, crystalline sensors in the 30 Series return to their original shape, even after accidental over-pressure. Every reading is as accurate as your last.
Features
Accuracy - Pressure Measurement


0 to 110% of range: ±(0.025% of reading + floor term)
Floor Term: 0.005% of FS or display resolution, whichever is greater
Vacuum: ±(0.25% of reading + vacuum floor term)
Vacuum Floor Term: 0.004 psi for 16 and 36 PSI. 0.01 psi for 300 psi

Accuracy - Milliamperes


Accuracy: ±(0.025% of reading +0.001 mA)
Range: 0 to 55 mA
Resolution: 0.001 mA
Connection: 4 mm jacks, 19 mm (0.75") spacing

Operating Temperature


Temperature Range: 0 to 50ºC (32 to 122ºF)

Display 


Screen: 2 lines of up to 6 digits, 5mm (0.2") high
Display Rate: 2 readings / second (Adjustable to 1, 3, or 3.7 readings/second)

Sensor ≥ 1500 psi


Wetted Materials: 316 Stainless steel
Diaphragm Seal Fluid: Silicone oil
Connection: Bottom, 1/8" female NPT

Sensor ≤ 300 psi


Wetted Materials: 316 Stainless steel, Anodized aluminum penetrated with PTFE
Diaphragm Seal Fluid: Silicone oil
Connection: Bottom, 1/8" female NPT
15 models matching criteria
IS31-16PSI
CRYSTAL ENGINEERING Crystal Engineering IS Handheld Pressure Calibrator - Intrinsically Safe - Dual Pressure 16 psi Gauge Range Accuracy: 0.05% of Reading, 0-55 mA Input Range, 0.001 mA Resolution5 Digit Display, 1/8" FNPT Fittings, Intrinsically Safe, Includes Carrying Case with Strap and Calibration Certificate
$1,882.00
USD
Free Shipping
IS31-300PSI
CRYSTAL ENGINEERING Crystal Engineering IS Handheld Pressure Calibrator - Intrinsically Safe - Dual Pressure 300 psi Gauge Range Accuracy: 0.05% of Reading, 0-55 mA Input Range, 0.001 mA Resolution5 Digit Display, 1/8" FNPT Fittings, Intrinsically Safe, Includes Carrying Case with Strap and Calibration Certificate
$1,882.00
USD
Free Shipping
$1,882.00
USD
Free Shipping
IS31-1500PSI
CRYSTAL ENGINEERING Crystal Engineering IS Handheld Pressure Calibrator - Intrinsically Safe - Dual Pressure 1500 psi Gauge Range Accuracy: 0.05% of Reading, 0-55 mA Input Range, 0.001 mA Resolution5 Digit Display, 1/8" FNPT Fittings, Intrinsically Safe, Includes Carrying Case with Strap and Calibration Certificate
$1,882.00
USD
Free Shipping
IS31-36PSI
CRYSTAL ENGINEERING Crystal Engineering IS Handheld Pressure Calibrator - Intrinsically Safe - Dual Pressure 36 psi Gauge Range Accuracy: 0.05% of Reading, 0-55 mA Input Range, 0.001 mA Resolution5 Digit Display, 1/8" FNPT Fittings, Intrinsically Safe, Includes Carrying Case with Strap and Calibration Certificate
$1,882.00
USD
Free Shipping
IS32-36PSI300PSI
Crystal Engineering 30 Series Handheld Pressure Calibrator - Dual Pressure 36/300PSI gauge range Accuracy: 0.05% of Reading; 0-55 mA input range, 0.001 mA resolution5 Digit Display, 1/8" FNPT Fittings, Intrinsically Safe, Includes carrying case with strap and calibration certificate
$2,690.00
USD
Free Shipping
IS32-36PSI1500PSI
Crystal Engineering 30 Series Handheld Pressure Calibrator - Dual Pressure 36/1500PSI gauge range Accuracy: 0.05% of Reading; 0-55 mA input range, 0.001 mA resolution5 Digit Display, 1/8" FNPT Fittings, Intrinsically Safe, Includes carrying case with strap and calibration certificate
$2,690.00
USD
Free Shipping
IS32-36PSI3000PSI
Crystal Engineering 30 Series Handheld Pressure Calibrator - Dual Pressure 36/3000PSI gauge range Accuracy: 0.05% of Reading; 0-55 mA input range, 0.001 mA resolution5 Digit Display, 1/8" FNPT Fittings, Intrinsically Safe, Includes carrying case with strap and calibration certificate
$2,690.00
USD
Free Shipping
IS32-16PSI300PSI
Crystal Engineering 30 Series Handheld Pressure Calibrator - Dual Pressure 16/300PSI gauge range Accuracy: 0.05% of Reading; 0-55 mA input range, 0.001 mA resolution5 Digit Display, 1/8" FNPT Fittings, Intrinsically Safe, Includes carrying case with strap and calibration certificate
$2,771.00
USD
Free Shipping
IS32-16PSI3000PSI
Crystal Engineering 30 Series Handheld Pressure Calibrator - Dual Pressure 16/3000PSI gauge range Accuracy: 0.05% of Reading; 0-55 mA input range, 0.001 mA resolution5 Digit Display, 1/8" FNPT Fittings, Intrinsically Safe, Includes carrying case with strap and calibration certificate
$2,771.00
USD
Free Shipping
Specifications
Power for ATEX / IECEx (Approved Battery Type)
Duracell Alkaline 9 V, MN 1604 - 0 to 50° C
Energizer Alkaline 9 V, 522 - 0 to 50° C
Energizer Lithium 9 V, L522 - 0 to 50° C
Varta High Energy Alkaline 9 V, 4922 - 0 to 45° C
Power for CSA (Approved Battery Type)
Duracell Alkaline 9 V, MN 1604 - Class I, Division 1, A, B, C, D T4
Energizer Alkaline 9 V, 522 - Class I, Division 1, A, B, C, D T4
Energizer Lithium 9 V, L522 - Class I, Division 1, A, B, C, D T4
Varta High Energy Alkaline 9 V, 4922 - Class I, Division 1, A, B, C, D T3C
Data / Communication
Digital Interface: micro - USB
Certifications & Approvals
II 2G Ex ia IIC T4
FTZU 06 ATEX 0010X
This Product Conforms To: EN 60079-6: 2006 | EN 60079 - 11: 2007
II 2G Ex ia IIC T4 Gb
IECx FTZU 10.0018X
This Instrument Was Tested Against AS/NZS 3584, C - tick EMC/EMI Requirements
Storage Temperature
-20° to 70° C (-4° to 158° F)