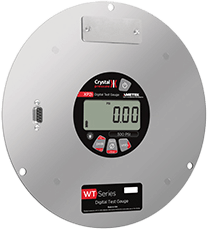 Images are representations only.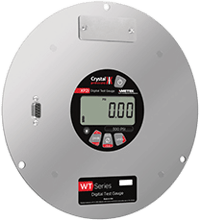 The WT version of the XP2i is designed to replicate the dimensions and pressure connections of the most common test gauges mounted in portable cases.

It is a drop in replacement for a Wally Box Pressure Gauge.
Features
0.1% of reading accuracy
Batteries and digital communications are accessible from the front
Rugged "Wally Box" gauge can withstand dropping and accidental over-pressurization
Optional Pressure data logging capability
Choose between 6" and 8.5" panel mount options
Specifications
Accuracy
20 to 100 % of Full Scale: ± (0.1 % of Reading)
0 to 20 % of Full Scale: ± (0.02 % of Full Scale)
Vacuum, for 300 psi, 20 bar, 2000 kPa, and lower pressure gauges: ± (0.25 % of Full Scale), where F.S. = -14.5 psig, -1.0 bar, -100.0 kPa.
Not recommended for Continuous Use below -14.5 psig or 0.2 psia.
Temperature
Operating: -10 to 50° C (14° to 122° F)
Non-Condensing. No change in accuracy over operating temperature range. Gauge must be zeroed to achieve rated specification
Storage: -40 to 75° C (-40 to 167° F)
Battery should be removed if stored for more than one month
Media Compatibility
Liquids and Gases Compatible with 316 Stainless Steel
Sensor
Wetted Materials: (Wrench Tight) 316 Stainless Steel / (Finger Tight) 316 Stainless Steel and Viton (Internal O-Ring)
Diaphragm Seal Fluid: Dow Corning 200
Power
Batteries: Three Size AAA Batteries
Battery Life: 500 hours Typical (Alkaline Battery)
Ultra Low Power: > 1 year, typical with 20 minute recording interval in LT5 mode
Battery Indicator: 3-segment Battery Icon (Full, Used, Low)
Dead Battery Indication: batt
Connections
Communication: DB-9, RS-232 (Environmentally Sealed)
Pressure Connection: 1/8" Female NPT
Display
Screen: 5.5 digits
Display Rate: 4 readings/second (Standard) / 8 readings/second (PSV mode)
Numerical Display Height: 16.9 mm (0.67") Single Line Display. LCD readable in Sunlight with Bright Backlight