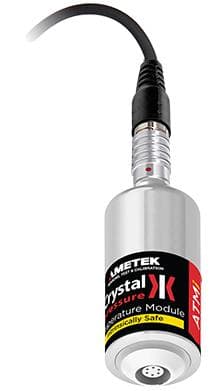 Images are representations only.
ATMi Intrinsically Safe Temperature Module
Brand:
AMETEK, Inc.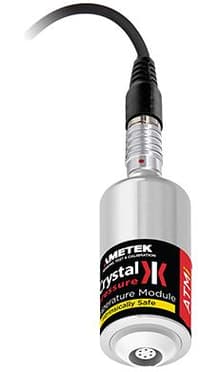 The Crystal ATMi intrinsically safe temperature modules, with flexible cable lengths, offer the functionality and flexibility to read up to 2 temperature inputs with a single HPC50 calibrator.

In addition to the two installed pressure modules in the HPC50 Series, two ATMi temperature modules can be connected to the device.

This provides the flexibility to read pressure with ambient and process temperature in the same instrument.

The ATMi is engineered to deliver the same high level of accuracy whether in the lab or in the field. When combined with the ATMi temperature module, the HPC50 is a powerful calibration tool.
Features
Accuracies to 0.015% of Reading: Performance to meet almost any calibration and measurement task.
Supports Pt100 RTDs: With readouts in °C, °F, K, R, and Ω.
Rugged Construction: Machined stainless steel housing. Engineered for rough field use–  almost unbreakable.
Self-Contained, Intelligent Module: Calibration data is stored in the module, so any module can be combined with any HPC50 calibrator. No need to "calibrate"  the module to an indicator.
ATMI-T
CRYSTAL ENGINEERING Crystal Engineering ATM-I- Advanced Temperature Module - Intrinsically Safe Pt100 Probe, -40-150°C, IS Certified, without Calibration Certificate '
ATMI-T4
CRYSTAL ENGINEERING Crystal Engineering ATM-I- Advanced Temperature Module - Intrinsically Safe Pt100 Probe, -40-150°C, with Calibration Certificate
$1,185.00
USD
Free Shipping
Specifications
Temperature Measurement
Accuracy: ± (0.015 % of Reading) + 0.02 Ohm
Range: 0 to 400 ohms
Resolution: 0.01 on all scales
Units: °C, K, °F, R, Ω
TCR: 0.003850 Ω/Ω/°C (IEC 60751)
Wiring: 4-Wire Support
Output
Temperature Resolution: 0.01
Display Update: Up to 10 Per Second
Operating Temperature
Temperature Range: -20° to 50° C (-4° to 122° F)
Storage Temperature
Temperature Range: -40° to 75° C (-40° to 167° F)
Cetrifications
Ex ia IIC T4/T3 Ga
FTZU 18 ATEX 0043X
IECEx FTZU 18.0012X