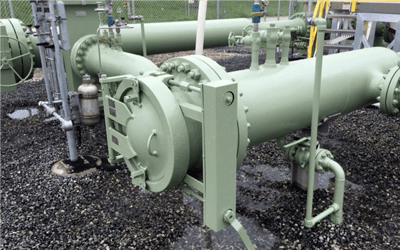 Images are representations only.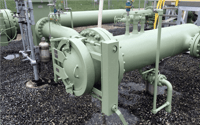 Tube Turns® Double Bolt Yoke style closure is compact in size and functional in design.

A typical unit consists of a forged hub, a hinged blanking head, split-yoke clamps, operating bolts, and a self-energizing O-ring gasket.

Materials of construction are in accord with ASME specifications, and manufacture complies with applicable rules of the applicable ASME code for Pressure Piping and with the ASME Boiler and Pressure Vessel Code.

Operation is smooth and direct, and even the largest unit can be opened or closed in a matter of minutes.

Turning of the actuating bolts - accomplished by one operator using only standard hand tools - spreads the yoke halves until they are fully separated, allowing the head to be swung open on its hinge.

There is no need to tug or hammer at dangerous or heavy flanges or metal doors or to struggle with bulky lugs and threads.

Contact surfaces of the clamping yokes, head and hub are tapered (at less than the friction angle) of dry carbon steel.

When the head is closed and the yoke bolts are tightened, the head and hub are wedged together, compressing the O-ring and effecting a leak proof seal.

After the pipeline or vessel has been pressurized, the end load on the closure head intensifies frictional resistance at the tapered surfaces, thereby developing an inherent holding action that tends to overcome the relatively small component of force seeking to separate the holding elements.

This design pre-supposes non-lubricated contact surfaces.
Features
Safety


Automation provides a tight seal which prevents leakage, and each type is furnished with safety systems


Electric & Hydraulic Operation with pressure switches and electrical relays.
Pneumatic Operation with a pressure switch and a solenoid valve. 

Automation also allows operation at a safe distance. 

Speed - Depending on the size, it can be opened or closed in less than a minute. 
Ease of Use - A single operator with the push of a single button, switch, or lever. Automation performs all the work. 
Low Maintenance – Requires little or no maintenance aside from occasional inspection/replacement of O-ring and periodic inspection of the Yoke Bolts and Nuts.