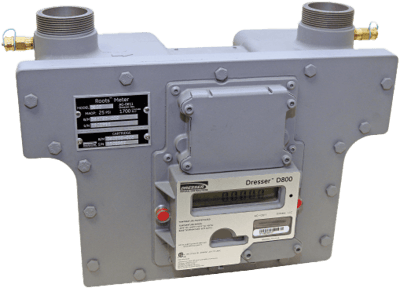 Images are representations only.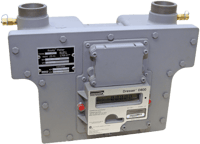 The Dresser D800 and D1000 meters carry a legacy of excellent, long-term rotary meter performance in a lightweight, compact, oil-free design.

Designed to replace commercial diaphragm meters*, we incorporated field-proven rotary meter technology in a compact, full-feature housing for commercial applications.

With their exceptional performance, the D800 and D1000 meters cover a range of meter sizes (600-1700cfh), allowing companies to consolidate SKUs and simplify inventory needs.

Additionally, the D800 and D1000 meters offer lower cost of ownership with reduced risk of injury and lower shipping and storage costs relative to similarly sized diaphragm meters.

Building upon the proven long-term accuracy of Dresser metering products, the Dresser D800 and D1000 meters set a new standard in rotary meter performance.

With an exceptional average start rate of only 0.30 ACFH (stop rate of 0.15 ACFH) and a rapid ramp up to +/- 1% accuracy at only 8 ACFH, the D800 and D1000 provide a sustained, continuous, nonadjustable measurement accuracy from pilot loads up to 1700 ACFH.

Preferred replacement for meters such as the AL-800 (AL800), AL-1000 (AL1000), AC-800, Sonix 880 and Sonix IQ Ultrasonic Gas Meter.
Specifications
Temperature Measurement System
Extremely Stable Class A, PT1000 precision RTD
Range: -40 to 140° F (-40 to 60° C)
Total ambient temperature effect: Less than 0.1° F (0.05° C) over entire temperature range
Temperature Accuracy
-40° to 32° F: ± 0.4° F (-40° to 0° C: ± 0.2° C)
32° to 140° F: ± 0. 5° F (0° to 60° C: ± 0.3° C)
Environmental Conditions
Ambient temperature range: -40 to 140° F (-40 to 60° C)
Ambient humidity range: 0 to 100 Non-Condensing
Ferrule (Spud) Connections
30LT/45LT/#3, #4 Sprague/#5 Sprague/1-1/2" FNPT
Spud to Spud: 11 inches (279.4 mm)
Maximum Operating Pressure (MAOP)
Warranty
D800/D1000 Meter - 2 years
Battery - 12 years