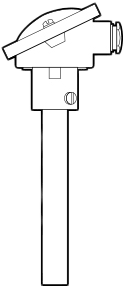 Images are representations only.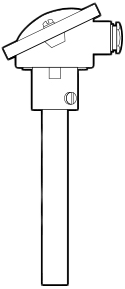 The 1100 Series Industrial Temperature Sensors are straight type thermocouple assemblies made for high temperatures up to 1600°C.

Each sensor is encased in protection tubes in heat resistant steel or ceramic. Manufactured with quality in mind, use our sensors to keep your systems running at full potential, minimizing costly process downtime.
Specifications
Operating Range
1101: Up to 1100° C (Shortly 1200° C)
1102, 1103 & 1105: Up to 1500° C (Shortly 1800° C)
1104: Up to 900° C (Shortly 1200° C)
1106: Up to 1200° C (Shortly 1300° C)
Thermocouple Type
K, N, R, S or B according to IEC 584-1
Furnaces
Ceramic Industry
Research and Test Plants
Process Industry – Combustion, Furnaces, and Heat Treatment
Brickworks, Porcelain Factories
Refuse and Hazardous Waste Incineration Plants
Chemical Process Engineering
Glass Annealing Ovens, Ceramic Baking Ovens
Energy and Furnaces
Annealing and Thermal Treatment Processes