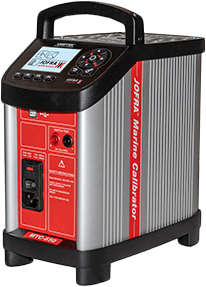 Images are representations only.
The MTC Series portable temperature calibrator is a fast, time-saving, cost effective calibrator designed specifically for the maritime industry.

Maximize accuracy with a one year recommended calibration interval, or lower the cost of ownership of your temperature calibrator by extending the interval to three years!

Reduce costs associated by recalibration and managing assets by 66%.

The MTC temperature calibrator also features an intuitive easy-to-use interface, and popular functions like automatic switch test and auto stepping are available with special one-key-one-function buttons.

Colored safety icons make it quick and easy to detect a hot or cold calibrator helping to reduce injuries, while a stability icon and time estimator help user's track the current status.
Features
Temperature range from 28 to 650°C (82 to 1202°F)
One Year Accuracy of ± 0.9°C and Stability to ± 0.1°C
Three Year Accuracy to ± 1.8°C and Stability to ± 0.1°C
Dry block calibrator
Lightweight and easy to carry
Multi-hole insert kits
MVI circuitry ensures stability despite mains supply variations
Specifications
Temperature
Range: 28° to 650° C / 82° to 1202° F
Lowest Calibration Temperature: Ambient +5° C / 9° F
Accuracy
MTC-650 A 1 year: ± 0.9° C / ± 1.62° F
MTC-650 A 3 year: ± 1.8° C / ± 3.24° F
Stability
MTC-650 A: ± 0.1° C / ± 0.18° F
Radial Homogeneity (Difference Between Holes)
Settings
Resolution: 1 or 0.1
Units: °C or °F or K
Heating Time
23 to 650° C / 73 to 1202° F - 18 minutes
Cooling Time
650 to 100° C / 1202 to 212° F - 39 minutes
100 to 50° C / 212 to 122° F - 18 minutes
Time to Stability (Typical)
Mains
Voltage: 115 V (90-127) / 230 V (180-254)
Max Power Consumption: 1150 VA
Frequency, US Deliveries: 60 Hz ± 3
Frequency, Non US Deliveries: 50 Hz ± 3, 60 Hz ± 3
Dimension L x W x H
248 × 148 × 305 mm / 9.76 × 5.83 × 12.01 in
Insert Dimensions (Diameter x Length)
25.7 mm × 120 mm / 1.01 × 4.72 in
Switch Input (Dry Contact)
Test Voltage: Maximum 14 Vdc
Test Current: Maximum 1 mA
Operating Temperature
0° to 50° C / 32° to 122° F
Storage Temperature
-20° to 50° C / -4° to 122° F
Humidity
5 to 90 % Relative Humidity, Non-Condensing
Electromagnetic Compatibility
Tested for use in domestic establishment and in establishments directly connected to low voltage power supply network which supplies buildings used for domestic purposes as well as in an industrial electromagnetic environment as described in EN 61326-1: 2013
Line Voltage/Frequency
90-127 Vac / 180-254 Vac 47-63 Hz