Images are representations only.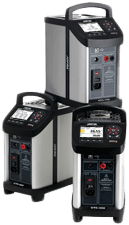 The CTC Series portable temperature calibrator is a fast, time-saving, reliable dry block temperature calibrator designed for on-site use.

The large color display is easy-to-read and provides icons and information regarding the status of the calibrator and the calibration in process.

Popular functions like automatic switch test and auto stepping are available with special one-key-one-function buttons.

Speed, portability, cleanliness, and wide temperature range are all superior over liquid bath systems.
Features
Temperature range from -25 to 1205°C (-13 to 2201°F) with 5 models
Accuracy to ± 0.2°C and Stability to ± 0.04°C
Calibrate Long Sensors with the CTC-652s 190 mm immersion depth
Lightweight and easy to carry
Multi-hole and/or insert kits
Input for external reference sensor on all C models
MVI circuitry ensures stability despite mains supply variations
Rugged, portable temperature calibrator
Specifications
Ambient Operating Temperature Range
0° to 50° C / 32° to 122° F
Storage Temperature Range
Wide Temperature Range
CTC-155: -25 to 155° C (-13 to 311° F)
CTC-350: 28 to 350° C (82 to 662° F)
CTC-652: 28 to 650° C (82 to 1202° F)
CTC-660: 28 to 660° C (82 to 1220° F)
CTC-1205: 100 to 1205° C (212 to 2201° F)
Humidity Range
5-90 % Relative Humidity, Non-Condensing
Altitude
0-2000 m / 0-3000 m (CTC-1205 only)
Electromagnetic Compatibility
Tested for use in domestic establishment and in establishments directly connected to low voltage power supply network which supplies buildings used for domestic purposes as well as in an industrial electromagnetic environment as described in EN 61326-1: 2013
Line Voltage/Frequency
90-127 Vac / 180-254 Vac 47-63 Hz
Power Consumption
CTC-155 A/C: 140 VA max.
CTC-350 A/C: 1150 VA max.
CTC-652 A/C: 1150 VA max.
CTC-660 A/C: 1150 VA max.
CTC-1205 A/C: 650 VA max.