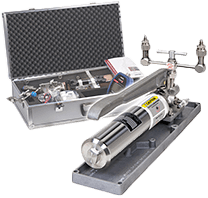 Images are representations only.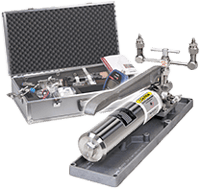 Our high-pressure, hydraulic pressure comparators are portable, self-contained, hydraulic pressure generators for calibrating pressure gauges, transmitters, sensors, and safety valves.

They are much faster than deadweight testers and most automated pressure controllers; and it's so quick and easy to use, it's ideal for calibrating those low cost gauges that are often overlooked for ISO9000 compliance.

Each pump is available on its own, or in one of our complete ready-to-use pump systems.

Type T hydraulic comparator (System F) is a self-contained high volume pressure source capable of producing pressure up to 15 000 psi.

It is ideal for testing gauges and setting hydraulic relief valves and pressure switches. Multiple models are available for hydraulic oil, water, or both.
Features
Pressure Range: 0 to 15 000 psi
High and low volume settings
Two outlet ports
Large fluid capacity
Fine adjustment up to 3500 psi
Compatible with water and oil
T-1-CPF  includes CPF fittings
Specifications
Pressure Ranges
T,T-1,T-1-CPF,T-2,andT-3: 0 to 1000 bar / 0 to 15000 psi
Recommended Test Fluids
The following fluids are recommended for use with this pump:
Standard: Distilled Water or Isopropyl Alcohol
Optional: MGAAA Oil
Other fluids compatible with stainless steel, Monel, Buna-N and Teflon may be used. Optional Viton and EPT o-Rings are available
Volume: 30 oz. (887 mL)
Low Volume / High Pressure Setting: 2.8 to 3.2 cc per Stroke
High Volume / Low Pressure Setting: 3.0 to 4.0 cc per Stroke
Pressure Connections - Reference Ports
T-1,T-2,andT-3: 1/4" FNPT or 1/2" FNPT
T-1-CPF: CPF Male
Pressure Connections - Adapter/Accessory Ports
T-1,T-2,andT-3: 1/4" FNPT or 1/4" FNPT
T-1-CPF: 1/4" Female NPT
Dimensions
Pump: 224 × 127 × 217 mm
Weight: 18.6 kg/8.4 Lbs