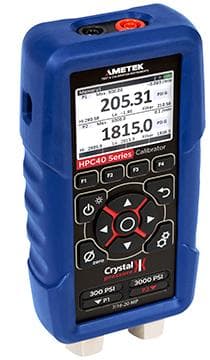 Images are representations only.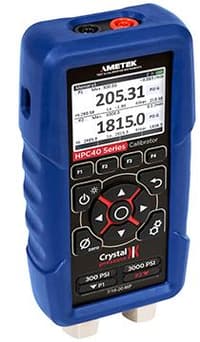 The HPC40 Series handheld pressure calibrator is the world's first combined pressure and mA loop calibrator to be fully temperature compensated from -20 to 50°C.

You can count on the same accuracy whether measuring pressure, current, voltage, or temperature.

Advanced Simplicity

APM and Temperature Connection Connect to an external APM module to expand the pressure options, plus a high accuracy RTD to read temperature.
"Wireless" Keypad All input and output connectors are placed away from the display and keypad to give maximum freedom to operate
Mini-USB Port Customize the set-up through free Crystal Control software.
Color Display The new large full-color display combined with the advanced simplicity of the new user interface, makes the HPC40 Series the easiest-to-use pressure calibrator available.
Cursor Keys Cursor keys help you to navigate through the display to perform set up functions and fine tune values.
CPF Pressure Connections Includes patented, leak - free, finger - tight CPF connection fittings.
Pressure Your Way

Sensors: Choose between a single sensor or a wide range dual sensor version.
Pressure Ranges: Choose your pressure range from vacuum to 15 000 psi /1000 bar. Order any combination of pressure ranges without limitations. Because the accuracy is 0.035% of reading, one HPC40 Series can typically replace several gauges or calibrators.
Absolute Pressure: Add the BARO option to toggle between gauge and absolute pressure on all ranges.
APM Pressure Module: Add an external APM CPF Series pressure module to read up to three pressures using a single device
Features
0.035% of Reading Accuracy
Gauge, Absolute, and Differential Pressure to 15,000 psi / 1000 bar / 100 MPa
Advanced Simplicity "Non-Menu" Interface
Measure & Source mA with External Loop Power or Internal 24 VDC Power Supply
High Accuracy Thermometer with "True Ohm" Technology
Store & Recall Previously Used Screens
Flexible Power Options Including Rechargeable
HPC41-30PSI
CRYSTAL ENGINEERING Crystal Engineering HPC41 Handheld Pressure Calibrator - Single Pressure 0-30 psig Gauge Range Transducer 0.035% of Range Accura Cy Includes: Traceable Calibration Certificate, 4 x AA Batteries, 1/4" MNPT Adapter, Protective Boot, Test Leads with Clips, Velcro Strap, User Manual, Mini-USB Cable
$2,619.00
USD
Free Shipping
HPC41-100PSI
Crystal Engineering HPC41 Handheld Pressure Calibrator - Single Pressure 0-30 psig gauge range transducer 0.035% of range accura cy Includes: Traceable Calibration Certificate, 4 x AA batteries, 1/4" MNPT adapter, Protective Boot, Test Leads with clips, Velcro Strap, User Manual, Mini-USB Cable
$2,619.00
USD
Free Shipping
HPC41-300PSI
Crystal Engineering HPC41 Handheld Pressure Calibrator - Single Pressure 0-300 psig gauge range transducer 0.035% of range accura cy Includes: Traceable Calibration Certificate, 4 x AA batteries, 1/4" MNPT adapter, Protective Boot, Test Leads with clips, Velcro Strap, User Manual, Mini-USB Cable
$2,619.00
USD
Free Shipping
Specifications
Current (mA) Input
Accuracy: ± (0.015 % of Reading + 0.002 mA)
mA Range: 0 to 55 mA
Percent Range: 0-20, 4-20, 10-50
Max Allowable Current: 60 mA
Resolution: 0.001 mA or 0.01 %
Units: mA and %
Input Resistance: < 17.2 Ω
Voltage Burden @ 20 mA: < 0.35 V
Voltage Burden @ 50 mA: < 0.86 V
HART Resistor: 250 Ω
Current (mA) Output
Accuracy: ± (0.015 of Reading + 0.002 mA)
Range: 0 to 25 mA
Step Time: 1 to 999 seconds
Ramp Time: 5 to 999 seconds
Voltage (VDC) Input
Input Impedance: > 1 MOhm
Accuracy: ± (0.015 % of Reading + 2 mV)
Range: 0 to 30 Vdc
Resolution: 0.001 Vdc
Loop Power
Maximum Output Current: 25 mA
Voltage Output Accuracy: ± 10 %
Fixed Output: 24 Vdc
Switch Test
Switch Type: Dry Contact
Closed State Resistance: < 1KΩ
Sample Rate: 10 Hz
Temperature Measurement
Accuracy: ± (0.015 % of Reading) + 0.02 Ohm
Range: 0 to 400 ohms
Resolution: 0.01 on all scales
Units: °C, K, °F, R, Ω
Wiring: 2-, 3-, and 4-Wire support
Connection: Lemo Plug, 1S Series, 304 insert configuration
TCR: 0.003850 Ω/ Ω/°C (IEC 60751)
Data / Communication
Digital Interface: Mini - USB
Display
Screen: 320 × 240 Pixel Graphical Display
Display Rate: 3 Readings/Second (Standard) 10 Readings/Second (Switch Test and Peak Hi/Lo Modes)
Enclosure
Weight: 689 g (24.3 oz.)
Rating: IP65
Housing: Machined Aluminum
Keypad and Labels: UV Resistant Silicone
Certifications & Approvals
HPC40 Series complies with the Electromagnetic Compatibility and the Pressure Equipment Directives
HPC40 Series complies with the Australian Radio communications (Electromagnetic Compatibility) Standard 2008