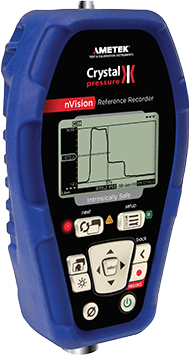 Images are representations only.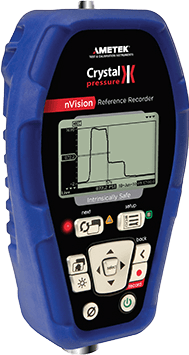 nVision lets you visualize measurements graphically, with or without a pc, in real time as it is being recorded. It is much easier to identify trends or anomalies visually, than in tables of data or spreadsheets.

nVision is tremendously flexible and can be configured to measure and record a variety of combinations of measurements. In addition to pressure, modules for temperature, voltage and current can be used.

Because all of these inputs can be displayed individually as numbers or as graphs, or in combination with other inputs (numerically and graphically) we also provide a way to simplify nVision, so you can limit the available screens to only those that are of use to your specific task.

Accuracy is up to 0.025 percent of reading–so any nVision can typically replace several gauges or calibrators you may have been using.

The nVision is fully temperature compensated–so there is no change in accuracy throughout the entire operating temperature range!

The nVision features two identical bays allowing configuration of the reference recorder to meet your requirements. All modules are field-replaceable allowing you the flexibility to react to changing needs and module calibration requirements.

The nVision's case is made from a rugged injection molded polymer utilizing a gasket to seal the enclosure against dust and water intrusion.

Even the mini USB B connector is fully sealed (with or without the protective boot cover). Circuitry is mounted in a shock-absorbing elastomeric system and the batteries are easily accessible by removing four captive screws.
Features
Accurate enough to replace a deadweight tester
Rugged enough to sit in 3 feet of water
Portable enough to complete calibrations anywhere
Gauge / Absolute Pressure Datalogger to 15,000 psi / 1000 bar / 100MPa
Differential Pressure with up to 0.025% of reading accuracy 
Switch, Voltage, Current, and Temperature
500,000 data points - 10 readings per second from 2 modules
Shift everyday wear to replaceable CPF adapter
Displays live data graphically - no PC required
Connects to a PC to view live readings or export to tamper proof digital records
Compensates accuracy for temperature effects from -20 to 50°C
Includes a calibration certificate with test data at 5 different temperatures from our A2LA accredited laboratory
Specifications
Sensor
Wetted Materials: (Wrenchtight) 316 Stainless Steel / (Fingertight) 316 Stainless Steel and Viton (Internal O-Ring)
Diaphragm Seal Fluid: Silicone Oil
Connection: Crystal CPF (U.S. Patent No. 8,794,677); Female
Barometric Reference
Accuracy: ± 0.5 mbar, ± 0.00725 psi
Range: 700.0 to 1100.0 mbarA, 10.153 to 15.954 psia
Units and Resolution: psi - 0.001 / inHg - 0.001 / mmHg - 0.01 / mbar - 0.1
Pressure Connection: Cylindrical Sensor Fitting of 5.8 mm O.D.. A Flexible 4.8 mm [3/16"] I.D. tube is recommended to Connect for Calibration
Mounting: Secured Using a 3/8" 4-40 Plastic Screw
Current (mA) Input
Accuracy: ± (0.015 % of Reading + 0.002 mA)
Range: 0 to 55 mA (MA20)
Max Allowable Current: 93.3 mA
Resolution: 0.001 mA or 0.01 %
Units: mA, % 4-20, % 10-50
Input Resistance: < 17.2 Ω
Voltage Burden @ 20 mA: < 0.35 V
Voltage Burden @ 50 mA: < 0.86 V
HART Resistance: 250 Ω
Connection: 2 mm Jacks
Voltage (VDC) Input
Accuracy: ± (0.015 % of Reading + 0.002 Vdc)
Max Allowable Voltage: 30 Vdc
Units: Vdc
Range: 0 to 28 Vdc
Resolution: 0.001 Vdc
Switch Test
Switch Type: Dry Contact
Closed State Resistance: 10 MΩ
Resistance Input
Accuracy: ± (0.015 % of Reading) + 0.02 Ohm
Range: 0 - 400 Ohms range for use with PRTs
Resolution: 0.01 on all scales
Units: °C, K, °F, R, Ω
TCRs: 0.003850 Ω/Ω/°C (IEC 60751), 0.003911 Ω/Ω/°C (US Industrial Std), 0.003926 Ω/Ω/°C
Wiring: 2-, 3-, 4-Wire Support
Connection: M8 Connector Cable or Terminal Block
Operating Temperature
Temperature Range: -20 to 50° C (-4° to 122° F)
Display
Screen: 255 × 160 pixel Graphical Display
Display Rate: 4 readings/second (Standard); up to 10 readings/second (Recording)
Power
Approved Battery Type: Rayovac Max Plus 815, Duracell MN1500, Energizer E91, Energizer EN91, Duracell MN1500
Approvals: ATEX/IECEx, CSA
4 × AA: 200 hours, typical
Ultra Low Power: Up to 60 days, Typical
Data/Communication
Digital Interface: mini-USB
Datalogging
Capacity: Approx. 1,000,000 data points
Storage Type: Non-Volatile Flash Memory
Fastest Interval: 10 per second
Slowest Interval: 1 per hour
Enclosure
Weight: 680 g (24.0 oz.)
Rating: IP66 & IP67
Housing: Impact Resistant Injection Molded
Keypad and Labels: UV Resistant Polyester
Mounting: M4×0.7 [8 mm (0.31")] Deep Threaded Insert Mounting Locations
Storage Temperature
-40° to 75° C (-40° to 167° F)
Replacing a Chart Recorder


The nVision is Quickly Replacing Aging Equipment for Recording Pressure and Temperature Measurements

Creating a Signed PDF in CrystalControl


How to Create a Tamper Proof, Signed PDF File in CrystalControl

Self Signed Digital ID Set-Up


How to Set-up a Digital ID which can be used to Sign a Tamper Proof PDF Document