Images are representations only.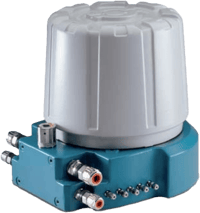 The Honeywell Elster® EnCal 3000 is a gas chromatograph specially designed for natural gas energy measurements.

This state-of-the-art analyzer uses chromatography components based on the latest micro electro-mechanical systems (MEMS) and capillary column technique.

This results in highly repeatable and accurate analysis results. The compact, explosion proof design includes the analytical hardware, stream selection and all required electronics for standalone operation.
Features
C₆₊ within 3 minutes
C₉₊ within 5 minutes
Repeatability on BTU < 0.005 %
Double block and bleed
Stream select for 5 streams
TCP/IP communication
Data storage in accordance with API 21.1 standard 
IP 66 outdoor housing
Calculations in accordance with ISO 6976, GPA 2172 or GOST 22667
Specifications
Calibration Gas
Supply pressure 30-60 psig. . Consumption ± 1.2 scf/day (at atm. pressure) Composition depending on application
Helium
Quality N5.0, supply pressure 80 ± 7 psig, , consumption ± 1.0 scf/hr
Pressure regulator should contain a safety relief set at 95 psig
Perfomance
Repeatability < 0.005 % for all calculated properties
Detection limit for C5: 5 ppm
Analysis time: 3 min. for C6+ analysis, 5 min. for C9+ analysis
Ambient Conditions
Temperature: -5° F to +130° F
Power Supply
24 Vdc, 18 W nominal (50 W start-up peak) for non-heated version
24 Vdc, 120 W nominal (170 W start-up peak) for heated version (ambient < 32° F))
Analyzer
Complete stand-alone operation, including all calculations and generation of report formats, without need for operator intervention.
Calculations in acc. with ISO 6976, GPA 2172, GOST 22667 or ASTM D3588
Interfaces
Ethernet UTP 10 Base-T for Modbus TCP/IP and PC link (max. distance 330 ft)
Two RS-232/485 ports for Modbus RTU or ASCII (3 wire connection for both RS-232 and 485)
Data Logging
Integrated logging of measurements as mean values (e.g. on hourly basis) or current values. Integrated logging of measurement system status and external events
PC Requirements
Windows® 2000 or Windows® XP professional edition (Service Pack 1 or higher) 1000 MHz processor, 512 MB RAM, CD-Rom player, free Ethernet port.
Approvals
ATEX II2G E Ex d IIB T4, KEMA 05ATEX2191
FM Class I, Div. 1 Group B,C and D (Pending)
IP66, Vibration and shock test in acc. with IEC 60068-2-31 and 64
EMC according to EN 61000-6-2 and EN 61000-6-4
PTB Metrological Certificate Reference No. PTB-3.31-4016861
Sample Gas Inlets
Input pressure range 30 - 60 psig, sample gas must be free from particles and liquid, temperature < 130° F . Double block and bleed stream selection for up to 5 streams and 1 calibration gas. Integrated fast loop system with bypass fl ow of 0.7- 1.1 scf/hr. (software selectable)
Dimensions
Base Ø 37 cm × height 37 cm (Ø 14" × height 14")
Fiscal Metering
Gas Turbine Control for Power Plants
Burner Control
Biogas
Gas Blending